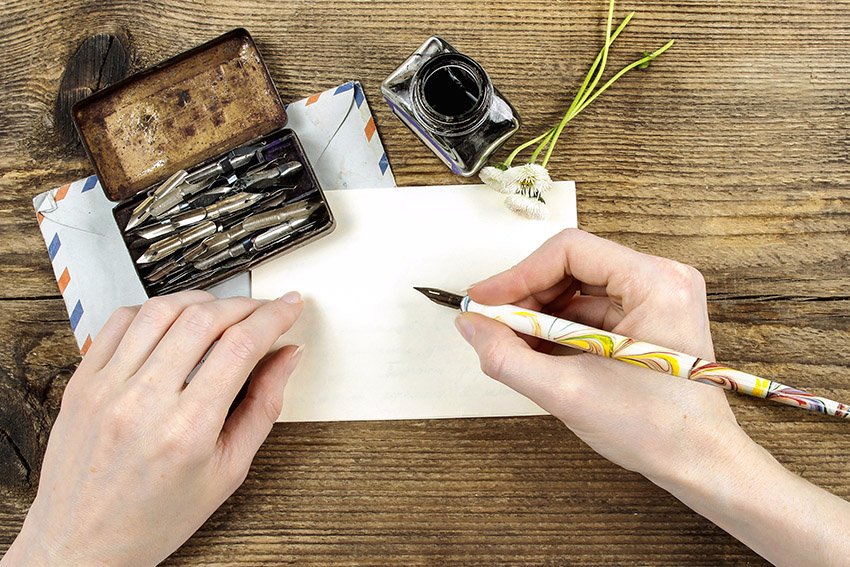 Is there anything quite as cool as a hand-written note or letter?
Not a hand-signed letter typed on a computer, not a greeting card with an inked-in signature, but a real penned-by-hand paper-and-ink note.
Tell me you don't still love opening the mailbox to find a personal letter, addressed to you–something that isn't a bill, a solicitation or an advertisement.
I know I do. Nothing makes my day quite like knowing that someone thought enough of me to take a few minutes out of their day to let me know they were thinking of me personally.
Hand-written notes can't be mass produced (if you mass produce them, they're NOT hand-written–handwriting fonts on the computer do NOT count).
Hand-written notes have to actually be addressed, stamped and placed in a mailbox. You can't dash one off like a quick email or text message.
Hand-written notes take time.
Time?
We don't have time. The world is a busy place. We're all moving at the speed of business–or at least that's what the commercial says–and apparently the speed of business is pretty fast.
So, why send a hand-written note?
Well, if you didn't figure it out from the points above, let me make this really simple.
I get approximately 250 emails every day–and that's just on one account. In addition, I probably see 1000 or more tweets and maybe another few hundred Facebook and LinkedIn posts. I bet your numbers look something like that, too.
I get maybe one or two personal letters in the mail every month. Guess which gets more attention from me? When I'm busy, I mass delete non-critical emails; sometimes I blow through Twitter streams and just focus on certain lists. I might even skip Facebook and LinkedIn altogether some days.
But if you send me a letter in the mail–and it's not a bill or a mass-mailed solicitation–I'll stop what I'm doing, open it and read it.
I'm willing to bet you'd do the same thing, too.
And I'll remember that you sent it to me.
And I'll remember that I was worth your time and attention.
When was the last time you sent someone–a friend, a relative, a business associate, anyone–a personal note?
Stationery is cheap. A first-class stamp (at least in the US) is still a great bargain. Make the mail carrier's day. More importantly, make someone else's day.
Send someone a note. Thank them for something they did for you or taught you–whether they know it or not. Share a few words of encouragement. Share an uplifting thought. Let them know they are important to you.
Go write a letter.
---
Are you a letter writer? Did someone send you a note that was particularly meaningful? Share your thoughts, comments and questions in the comment section below.