I could use another day or two each week to get everything done that I want to. Failing that, I could go for an extra couple hours each day. Who doesn't wish we could get more done or have more hours in a day? Whether you work from home or work in an office, most of us could benefit from increased productivity.
I can't get any more hours in my day (darn!) and I can't give you more hours in your day, but I can help you make changes that can make your workspace more productive. I have implemented and tested these steps—and I've helped many of my clients to develop these habits as well.
Your workspace needs to work for you, not against you. Your workspace shouldn't make your job harder, and there are some things you can do to make it easier to get things done.
If I were to come to your office to help you make your workspace more productive, here are nine of the things we would do (and yes, I am available to come to your office and help you make your workspace more productive—learn more here).
How to Make Your Workspace More Productive
Define Your Needs
What do you need your workspace to do for you? What do you want to accomplish here and how is your current space holding you back? Do you need more storage? Do you need space to spread out projects? Do you need to be able keep tools and supplies closer at hand? Do you spend too much time looking for things?
If you're in a traditional office, you may not be able to make a lot of physical changes, such as new furniture or a bigger space, but you can look at what you have to work with and figure out what its limitations are and how it could work better.
If you're working from home, how does your space work for you? Is there a different space in your home that would work better? How can you improve the space you have? What works and what doesn't work about your current space?
Is there something specific about your current space that you feel needs to change to make your workspace more productive?
Purge Your Workspace
Now that you know what is or isn't working in your space, it's time to clean it out. Start by removing everything that isn't working for you. Next, declutter. Grab a trash bin, a "things that don't belong in here" box and a box for things you'll want to keep. Remove everything left in your office that you can remove, sorting them into one of your three boxes or bins. When everything is out, give the office a good cleaning. Dust everything, clean the floor, and wash the windows. A clean space always feels better.
Refine Your Layout
After the purge,  you have a clean slate, so it's time to lay out your workspace. Thinking about your needs from step 1, it's time to configure your workspace so it works for you. Consider the major elements: space for your computer, space for laying out projects, space for your most frequently used supplies, etc. Can you sit (or stand if you're a standing desk person) and easily reach or access what you most need and use on a regular basis? This may take a few tries to find the right layout for you, so don't be discouraged if it doesn't just fall into place immediately.
Personalize Your Space
Make your office yours. How do you work? Do you prefer a comfy chair and a laptop? Do you like a spacious desk with a desktop computer and dual monitors? Are you a standing desk person–or do you want to have the option of sitting or standing with the same desk? What kind of art and decor will inspire you to do your best work? It's important to have an office that's efficient and productive. It's also important to have an office that's comfortable and inspiring, so don't skip this step.
Organize Your Workspace
Once you have a layout that works, let's organize your space and your materials. You want to be able to easily access the items you use every day without having to get up and go hunt them down. You also want to do this without cluttering your workspace so you don't have room to work. Whether you use desktop organizers or drawers or a bin system, your next step is to create an organized workspace that works for you and allows you to do what you need to get done and work productively.
Develop a Filing System
Every worker needs a filing system. Whether you work for someone else (in which case your filing system may be largely defined for you) or you work for yourself, you need a system and a space to keep track of important paperwork. The unimportant stuff should be recycled or tossed. That in itself will make your filing system more effective. Controlling the paper clutter is one of the keys to make your workspace more productive.
Take a few minutes to consider what you need to file and how you access your files before beginning. Do you need to file by job, by client, by date, or by some other method? Once you know that, you can set up your system.
Organize Digitally
Once you have organized your physical space, it's time to organize your digital space. If you've had your computer for any length of time, it's likely got a lot of "stuff" on it. How much time do you spend trying to find the files, documents or apps that you work with regularly? Hint: just spreading all your files across the computer desktop is rarely a good plan.
Just as you have filed your paperwork in folders and drawers, think about how you can organize your digital workspace with folders and "libraries." Do you want to group by file type, by project, by date, or is there another method that works for you? Figure that out, and then start arranging your computer files accordingly.
It will slow you down a little bit when you first begin, but once you put your system into practice and get used to it, you'll be amazed at how much more productive you are and how much time it saves. Having a well-organized digital workspace will help make your workspace more productive as much as a well-organized physical workspace will.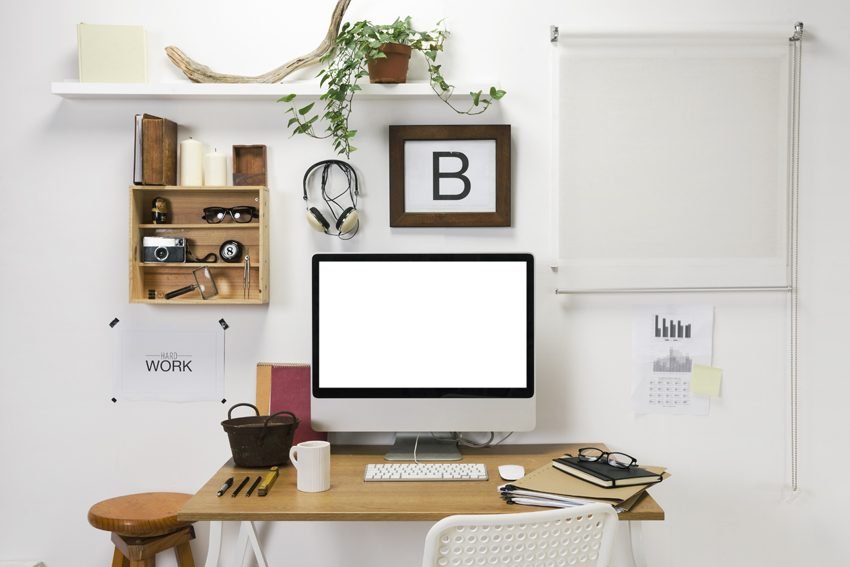 Create Success Routines
Now that your space is optimized for productivity, let's talk about your time. What are your workday priorities? Are there specific tasks you need to do on a regular basis that we could streamline? How often do you check your email?  Do you have regular meetings? How do you respond to print mail and memos? Are you on social media during your work day? (Should you be?—some jobs require it and some don't. And how much time should you be there?) Do you do these things throughout the day as they come in, or do you have designated blocks of time for different tasks?
List your regular work activities and the amount of time you need to complete each task. Think about the steps involved in each task and how you can streamline those steps into routines that will help you make the most of that time. Now get out your calendar and schedule blocks of time for each routine.  As you incorporate these routines into your work, you'll be able to more quickly and effectively move through your work day and your work week, freeing up time for more productive activities.
Plan for tomorrow
At the end of each workday, schedule some time to wrap up the day AND to plan out tomorrow. Leaving work with a tidy desktop and having already established the next day's priorities means you can leave work at work and not spend all evening or weekend fussing and fretting about it.
I don't know about you, but I am much more energized and motivated when I come into my office in the morning and can sit down to an organized workspace.  Since I already know what I'm going to be doing and I've already planned and laid it out the night before, I can get right to work and not waste time trying to figure out what I need to do.
Following these nine steps will help you not only make the most of your work day but it will also help you to make your workspace more productive, where you can feel more inspired, feel more comfortable, and get more work done. A beautiful, organized, and effective workspace is definitely a more productive workspace. Do you need some help to bring your productive vision to life? I am available for in-person and video consultations for organization and productivity. For more information on my organizing and productivity services, contact me here.
Do you have questions or thoughts about increasing your productivity or how to make your workspace more productive? Any tips or tricks for maximizing your productivity you'd like to share? Leave me your comments below.