Do you struggle with creating visual materials for your business? Are you tired of spending hours on presentations, charts and flyers, only to have them turn out boring? It doesn't have to be that way. And no, you don't have to hire a graphic designer. Well, if you have the budget for it, great, but there is an affordable business solution that can help you make stunning and easy business graphics.
Let me introduce you to Visme. Visme not only makes stunning and engaging presentations and infographics, but just about every other business graphic you can think of as well. Visme is a graphic design app, easy enough for the design novice, yet sophisticated enough for marketing professionals.

You can use Visme to make virtually every type of business graphic you might need. Here's a partial list of Visme's many options:
Graphs
Charts
Presentations
Infographics
Resumes
Press Releases
Menus
Newsletters
Flyers
eBooks
Facebook Graphics and Headers
Blog and newsletter Headers,
Web Ads
Proposals
White Papers
Lesson Plans
Report Cards
Brochures
Greeting Cards
Certificates
Postcards
Business Cards
Gift Certificates
Even for those among us who are more gifted in the graphic arts, one of the things I really like about Visme is that their many templates give me a starting point. I don't have to think up every project from scratch. Be able to customize an existing design is a huge time saver.
For example, I frequently need flyers to publicize various events. After a while, I feel like they all start to look the same, but using Visme to create flyers and printables means I have endless variety.
And I have to confess I am not good at graphs. Not only am I not good, I am really bad at creating graphs. I am great at producing and analyzing the data, but putting it in a visually appealing and easily understandable format often escapes me. But this is one of Visme's great strengths. I just enter my data, and Visme creates the graphs for me..

Visme has some really cool chart widgets, designed to display data in easy-to-understand visuals. I love this because I am huge on making things easy to understand. Their data widgets allow me to quickly turn my simple (but often boring) data and numbers into dynamic, easier to understand visuals. From a speedometer to counters, ribbons and radial dials, each widget allows you to fully customize the data to display specific values.
In addition, the chart widget offers seven variations of data representation in the form of pie charts, bar and linear graphs. It simplifies the data visualization process to the point of enabling users to generate charts within seconds. Users can also import spreadsheet data and generate a chart on the fly from the imported data. I can also use these tools to create reports of my surveys, and make them much more engaging than they would be otherwise. And, Visme's charts have the added feature of animation built in. You can choose to use the animation or turn it off.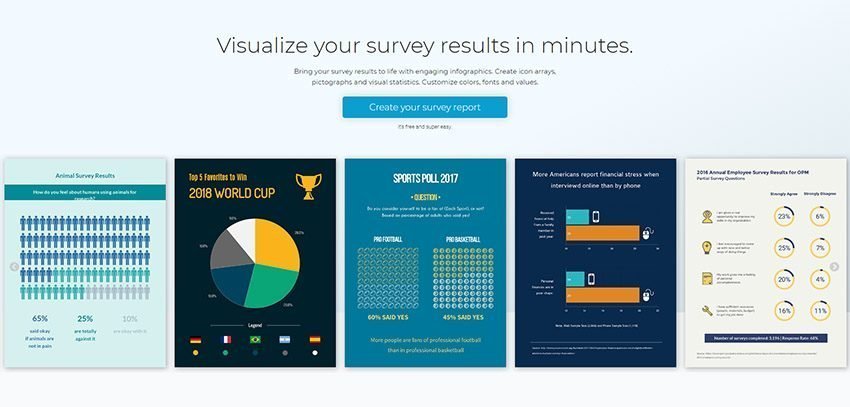 If you are ready to end your stress and make stunning and easy business graphics for all of your business needs–and your personal ones, too, check out Visme today.