Quality professional graphics are essential to building a successful online presence. You don't have to be in a design-based business to understand the need to create quality professional graphics for your website, for your blog posts, for your marketing or for your training.
While I am confident in my abilities to produce great photographs, I am not so good at creating infographics, which I love, and other graphic elements. Thankfully, I discovered Visme, which is finally an app that makes it easy for me to create quality professional graphics without spending half a day or more agonizing over the design.
But just because Visme is easy, doesn't mean it's not powerful or professional. Although it's simple and intuitive for non-designers, it's also pretty powerful for those that want to fully customize their designs, so you can create everything from simple graphics to full blown interactive Presentations and other visuals with rollovers, clickable areas, videos, audio and even embed third party content!
While an app isn't going to replace a professional graphic designer for your critical projects and campaigns, apps like Visme can help you create the quality professional graphics you need for presentations, web posts, newsletters, and ads.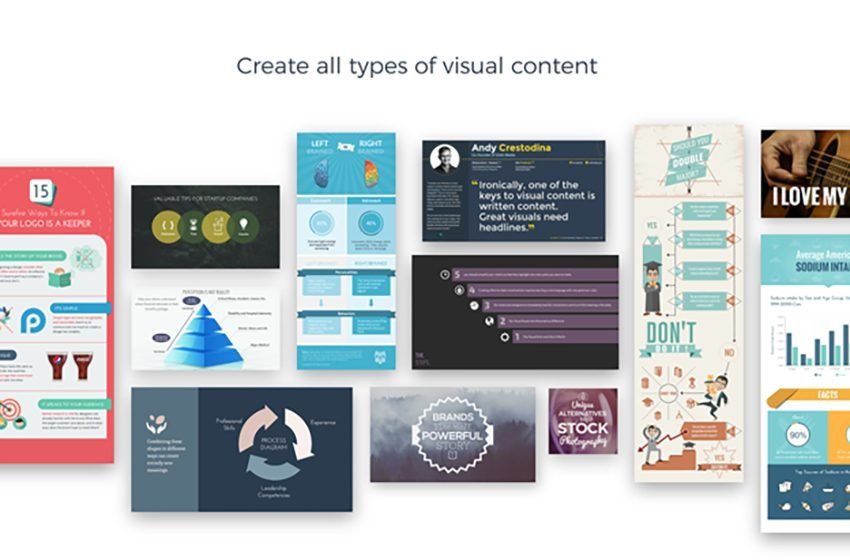 Here is a short video that explains some of Visme's features much better than I can do it.
Visme wasn't just created by some designers working on a new app. They used reviews and feedback from more than 1.2 million users in more than 90 countries over five years of development to create this most recent version.
Whether you're a blogger looking to illustrate and add life to your posts, a Fortune 500 company who wants to put an end to boring presentations, or an educator looking for tools to engage students, Visme is a tool that can work for you.
Visme Features
Visme allows you to create Presentations, Infographics, Documents, Printables, Charts and Graphs, Website Graphics, Social Graphics, and Custom Projects. You can choose from dozens of pre-made templates, or you can use their elements library to custom design your own graphic. Once completed you can download your projects as JPG, PNG, PDF, PPTX or HTML.
One of the things I really like about Visme is that I can create multiple forms of graphic content and have them all inter-related—with just one app. I also like the ability to create my own template library.
When you publish from Visme, you can:
Speed up the process with pre-made content blocks
Choose from united charts & graphs, as well as dozens of data widgets
Not pay extra for graphic assets, including images and icons
Create interactive and animated graphics and presentations
Include voice overs and background music
Access analytics for each of your projects
Password protect your projects
Add video, audio and third-party widgets
If you are a paid business user of Visme, especially managing an organization, in addition to speeding up the creation of quality professional graphics for your organization, you'll really appreciate their new branding kit, where you can establish your brand colors, fonts, logos and template directly in the app for all team members to access.
Learn more in this video tutorial.
Pricing
Visme offers plans for Individuals, Businesses and Education plans, which include students, educators and schools.
Individual plans start at free-forever. Yes, of course there are limitations, but it's a great way to start and figure out if Visme is the plan for you.
Visme is free for all users; it takes just a few seconds to register and start creating your first project. Most features are free and other features, such as downloading projects for offline use, password protection, access to premium widgets and templates, are available starting at $10/month (when paid yearly or $19/month paid monthly).
Want to try Visme and begin creating quality professional graphics easily? Check out Visme at this link. And let me know how it goes for you. I'd love to hear your feedback.