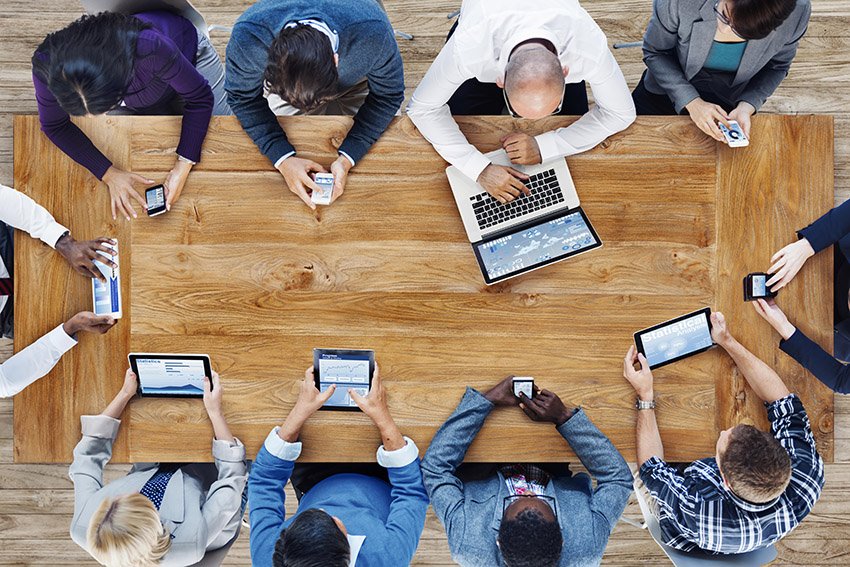 Are you planning to increase your productivity this year?
Ok, let's get real. No one is planning to be less productive this year, right? Whether it's for you or you team, making your work time more productive is never a bad goal.
Note: being more productive doesn't necessarily mean working more. In my world, increasing productivity generally means I get to work fewer hours while getting more meaningful work done. Or I work the same number of hours while being more effective in my work. For me, it also means knowing how and where I am spending my time.
To increase my productivity, I am always on the hunt for apps, tools and routines that increase my productivity and make my work easier and more enjoyable. I have quite a few apps in my arsenal, but the apps I want to share with you today are my core go-to productivity apps.
These are 5 apps I recommend, that if used consistently, will help you increase your productivity this year. All of these apps are free to begin. Once you get familiar with them, and discover how they increase your productivity, you may wish to upgrade for additional features.
Toggle is a simple way to track time spent on various projects. I first began using Toggl to track billable hours for clients. Previously, I was trying to keep a spreadsheet and then calculate hours. The free version of Toggl allows me to save projects, and then stop and start the timer with a single click. Not only do I have it in the browser bar of my computer, I also have the Android app on my phone to use when I'm in a face-to-face meeting with a client. No more calculating or guessing at my time spent with each client.
On the rare occasion that I forget to shut off my timer, Toggl will send me a reminder. Toggl also sends a weekly report, and I can go into the app to generate my own reports when I need to.
While for me, the basic free version of Toggl does everything I need it to, you can upgrade if you want to use it for teams, collaborations or more detailed reporting. Subscriptions start at $9 per user per month, with features increasing, along with the price. You can start being more productive with Toggle today, here.
Rescue Time is another time tracking program, but with a twist. Rescue Time is fully automated—no pushing buttons to start and stop. The main reason I use Rescue Time in addition to Toggl is that it automatically tracks my productivity and provides me a report each week, so I can see where I'm spending my time and where I need to improve.
Rescue Time tracks your productivity both online and off. You need to download Rescue Time to your computer and/or phone/tablet, and then log in on the website where it will walk you through designating which websites and apps are productive, not productive, or neutral. From there it runs in the background and shows you exactly how you spend your computer time, with no manual entry required.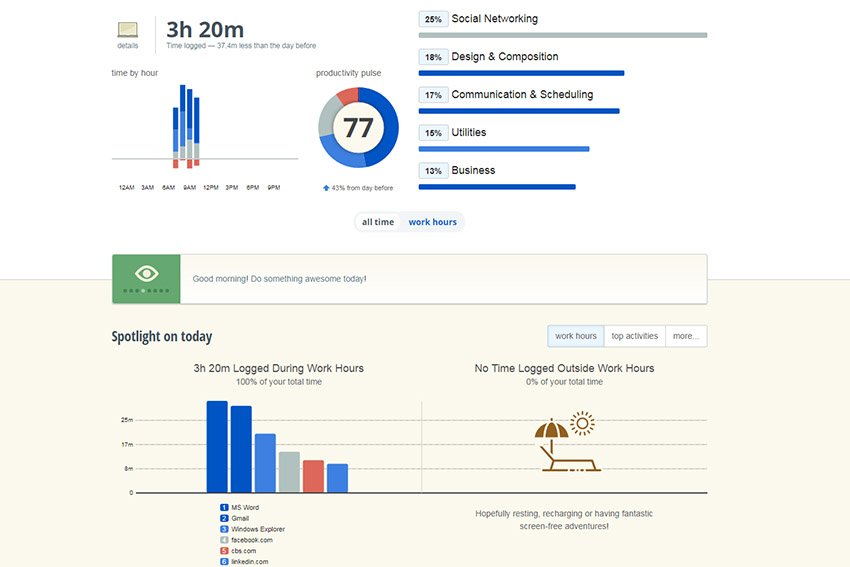 Once a week, Rescue Time will email you a productivity report showing you where and how you spent your digital time. Once you know how you're spending your time, you can use that information to create habits, workflows and focus time to be more productive.
The premium (paid) versions of Rescue Time include features like Focus Time, which blocks certain websites and apps during designated periods to help you stay on task. If you install the app on your phone, you can see how your phone usage impacts your productivity as well. Rescue Time has a version for teams, and it is important to note that this is NOT an employee-monitoring app to spy on what your employees are doing. It will provide you with team-level reports, respecting the privacy of individual employees while helping you improve team productivity.
Rescue Time Lite is free forever, and premium versions start at $6/user/month.
You can check out Rescue Time and get started for free here.
Trello is one of the best project management apps I have ever used. In fact, it's been pretty much the only one I've used for several years now. Trello is free to get started, and that free version has so many options that it could be all you'll ever need.
Trello uses "boards" to manage projects, and within the boards you can create lists and cards, to keep track of everything you are doing. You can create to-do lists with due dates, connect Trello with other apps like Dropbox, Google Drive and Evernote, to name a few. Trello allows you to attach files, images, and other documents to cards, making it easy to share information with collaborators, or access it at any time from anywhere.
You can create as many boards as you need. I have boards for personal projects and family projects, in addition to my business boards. I even have a board dedicated to one of my favorite pastimes, family history research (sample image below). For my business, I use Trello to track research progress, to note all my ideas and then flesh them out, to manage client projects, and internal work projects, including presentations, writing and photography projects, and goal progress.
Trello works for teams as well as individuals. I am able to easily share boards with collaborators, and some of my clients use it for their business teams.
Trello starts at free with unlimited personal boards (10 team boards), unlimited cards, lists and attachments—though attachments are limited in size. Premium plans begin from $9.99 per user per month with more features, additions and customizations that I can begin to describe here.
To check out all of Trello's great features and see how this platform can increase your productivity, visit Trello here.
Evernote is another great app with so many features in the free version that you may never need to upgrade. Evernote is available for computer, tablet and phone and I use it on all three. It is my go-to note taking, and information-cataloguing app.
I read a lot of articles and blog posts online, and sometimes I don't have time to get through them all at once. Rather than have a mile-long list of bookmarks to wade through when I do have time to read, I save them into Evernote (via a handy browser web clipper) where I can categorize them, and make them available to read offline, like when I'm traveling and have no internet service.
I can add commentary to my notes, highlight them, connect apps, collaborate with a team, and Evernote keeps everything synced among all my devices. You can scan things into Evernote, attach PDFS, images, documents, whatever you need to organize and be able to access at a moment's notice.
Evernote is free with premium and team versions starting at $7.99/month. If you want to be organized on the go, Evernote is it. Check out all the features and get started with Evernote here.
I admit I am a Photoshop lover. I have had and used Photoshop nearly as long as there has been a Photoshop. But Photoshop is not inexpensive, and it has a steep learning curve. After all, I've been using it extensively more than 25 years and there's still a lot I have to learn. Not only that, but it's not easy for me to access on the go. I have it installed on my desktop, but I'd have to sign up for additional subscriptions for laptop and phone. And I can't even imagine trying to do my Photoshop work on my phone.
Enter Canva. I can access Canva anywhere from any of my devices. I can quickly make a meme or a graphic, create a graph or chart, or edit an image for use in a blog post, presentation, social media post or article. And it's quick and easy, not like the rabbit hole Photoshop can become.
Canva makes non-designers look pretty darn good. And they do it without charging.
Whether I need to quickly edit a photo, convert data to a chart, or create something that will look great on my social posts, Canva has it covered. This is one of those apps where you'll fall in love with it free, and then love it so much you'll want to upgrade to the Pro Version, which is only $9.95/month. Check out all the features of Canva here.
---
While there are countless apps on the market, and many that will claim to increase your productivity, these are my top choices for apps that will increase your productivity, and help you reach or even exceed your business goals this year.
Give them a try and let me know how they work for you. If you're already using them, I'd love to hear your feedback, and any unique ways you've found to utilize them in your workflow. If you'd like customized recommendations or additional help in improving your business productivity, message me here.
Here's to a productive year!